San Diego Comic-Con truly is an exciting time for fans of pop culture. The Warner Bros. panels in the past have been praised for how exciting they are. Last year WB/DC released the first look of Aquaman and Shazam!,  which showed an exciting new direction for the DC film franchise. Both films would end up with financial and critical success.
This year Warner Bros. has decided not to have a panel at Hall H, meaning there will be no early first looks for their upcoming films. It is a strange decision because there are A LOT of films on WB's future slate, where the Comic-Con stage would be an appropriate place and time to get fans excited for them.
Birds of Prey and Wonder Woman 1984 are two highly anticipated films starring a diverse cast, and it's a shame that they couldn't get their big moment in San Diego when the casts of Batman v Superman, Suicide Squad, Wonder Woman, Justice League, Shazam!, and Aquaman had theirs.
What makes it worse is the fact that Kevin Feige and Marvel Studios will be there, where they will most likely announce their future slate of films. Marvel will be the biggest topic of conversation that weekend, and it's a shame WB didn't even try to compete with their unique upcoming DC films.
There's constant excitement, surprise, and disappointment associated with the DC film brand. Why is that? How does Warner Bros. release Wonder Woman the same year they release the severely disappointing Justice League? Why is there a constant rumor cycle?
DC Extended Universe
It seems like when Warner Bros. kickstarted the DCEU with Man of Steel, they pretty much wanted to have their own version of Marvel Studio's Avengers. During a 2014 investors call, Time Warner (now WarnerMedia) announced the upcoming slate of DC films. They were the following:
"Batman v Superman: Dawn of Justice," directed by Zack Snyder (2016)

"Suicide Squad," directed by David Ayer (2016)

"Wonder Woman," starring Gal Gadot (2017)

"Justice League Part One," directed by Zack Snyder, with Ben Affleck, Henry Cavill, and Amy Adams (2017)

"The Flash," starring Ezra Miller (2018)

"Aquaman," starring Jason Momoa (2018)

"Shazam" (2019)

"Justice League Part Two," directed by Zack Snyder (2019)

"Cyborg," starring Ray Fisher (2020)

"Green Lantern" (2020)
It's safe to say that The Flash, Justice League Part Two, Cyborg, and Green Lantern are nowhere in sight.
Zack Snyder had an insane five film plan that truly would've been unlike anything we've ever seen. Kevin Smith talks about it on his Fatman on Batman podcast where he talks about where the movies would've gone had Snyder had gotten his way. He starts talking about it at around the 35-minute mark up until the 44-minute mark.
What happened?
Batman v Superman: Dawn of Justice
When Batman v Superman released, it became instantly polarizing. The film didn't make a billion and its profits barely justified the $400 million investment. To make matters worse, Warner Bros. released a 3-hour version of the film that many agreed was superior. It became a top-selling blu-ray on the physical sales chart, but the damage to the film's name was already done. A lot of people made it loud and clear that they didn't like the movie and a common criticism was the dark tone. Warner Bros took that criticism to heart and tried to correct it.
Suicide Squad
Remember that awesome Suicide Squad trailer from Comic-Con 2015 that had a dark tone and a unique atmosphere? I'm still waiting for that movie.
Warner Bros did absolutely everything in their power to make sure Suicide Squad didn't have the same tone as BvS. And guess what happened? It still got bad reviews.
Wonder Woman
It's surprising that Wonder Woman had an unproblematic production and it ended up being one of the most successful DC films ever. But in the same year, we got………..
Justice League
There could honestly be a documentary revolving around the messy production of Justice League. It would definitely be more entertaining than the movie that was released. There's so much to talk about that I will try to summarize as best as possible.
Snyder finished shooting the film, but a family tragedy happened and he chose to back out of reshoots and post-production to spend time with his family. Joss Whedon was then hired by WB to direct the reshoots and guide the film's post-production.
But then a problem arose. Henry Cavill (Superman) was filming Mission Impossible: Fallout where his character had a mustache, but WB obviously didn't want Superman to have facial hair, but Paramount didn't want Cavill to shave. Time was running out and they had no intention to delay the film because CEO Toby Emmerich and studio head at the time Kevin Tsujihara wanted to preserve their bonuses. So Cavill literally filmed his scenes with his mustache, while WB spent a lot of money in visual effects to digitally remove it.
So guess what? The movie comes out and it's a complete disaster financially and critically. The budget reportedly ballooned up to $300 million and could only gross $657 million, with reports stating that the studio lost somewhere between $50-$100 million on its investment. It's embarrassing that the comedic Thor: Ragnarok came out the same month and completely outclassed a movie starring Batman, Superman and Wonder Woman. The ramifications of Justice League's failures were huge and changed the future of this franchise, focusing more on solo adventures and less on the connected universe angle.
Aquaman and Shazam!

Aquaman was the billion-dollar success that the studio desperately needed. It became the highest grossing DC film ever and is the seventh highest grossing comic book film ever.
Shazam! was well received, had a considerably lower budget than previous films, and made a respectable profit. 
My Thoughts on the Films So Far
I personally love Man of Steel and Batman v Superman, but I get why a lot of people didn't.  Warner Bros. did itself no favors cutting out 30 minutes of BvS resulting in an inferior product. They are people out there who hated the movie in the theater but never gave the Ultimate Edition a chance. It's exhausting hearing the hot takes of why DC movies didn't work when you are actually enjoying them.
It's unfortunate that Suicide Squad was ultimately rushed out of the gate.  The studio was very reactionary to BvS's response and hired multiple editors to make sure it had a fun tone. I know the movie has its fans, but I personally feel it didn't live up to its full potential.
Wonder Woman releasing the way it did is almost miraculous, but the film did have its criticisms pre-release. Remember when people were complaining about the lack of marketing for this movie when the film had plenty of trailers out? I'll also never forget the ridiculousness of Wonder Woman's armpits, It's easy to forget how much scrutiny this film went through before its release when a lot of other films get away with a lot more.
Justice League's failure was quite possibly the worst time to be a fan of DC, especially with all the news coming out about the film's production issues. The film's extensive reshoots, conflicting visions, and Emmerich and Tsujihara's egregious business dealings made it one of the most disappointing modern blockbusters ever. While it's nice that the studio wants to focus on solo films, it's a shame another Justice League film won't be made for a while because of this one film's failure to deliver. Watching Marvel fulfill its 11-year journey with Avengers: Endgame was amazing but it also made me think about what could've been with Snyder's original plan. His plan involved Darkseid, the Green Lantern Corps, Lois getting killed by Darkseid, an all-out war against Apokolips, Batman dying and more missed opportunities galore.
After Batman v Superman released, the constant rumors of Ben Affleck started. In 2013 he was hired to be the new Caped Crusader hot off his Best Picture win. Since he proved himself to be a talented director, the plan was for him to star and direct his own Batman film. Sometime after the backlash of BvS, rumors started swirling around that Affleck might not want to be Batman anymore. It was announced in late January 2017 he was no longer attached to direct. About a month later, WB hired Matt Reeves to direct a solo Batman film "with Affleck still in the role". After that happened the rumors increased, with nobody giving a concrete answer for almost two years until January 30, 2019, when he officially wasn't Batman anymore. Reports have now stated Reeves had always intended on casting a younger actor, meaning Affleck was seemingly on his way out the whole time. Warner Bros. handled this rumor cycle poorly and if they just said that Justice League was the last time Affleck would play the role, it honestly could've been easier on the fans
Now there's the #ReleasetheSnyderCut drama, where fans are demanding Warner Bros. to release the version of the film Snyder shot before the reshoots. There are definitely toxic parts of this movement but there's also another side that's doing it respectfully. Fans have raised over $19,000 for a San Diego Comic-Con 2019 campaign that includes the hashtag on billboards, a banner that flies above the venue, and an ad in The Hollywood Reporter's magazine. Half of the money raised will go to the American Foundation of Suicide Prevention, a foundation that Snyder endorses. None of this would have happened if Warner Bros. just released the movie Snyder shot instead of going through the trouble of reshoots.
Aquaman and Shazam! demonstrated that the characters are the most important part of this franchise. Hopefully, that message is loud and clear.
Possible Developments
The Flash
Cyborg
Cyborg is indefinitely shelved and it looks like Ray Fisher is out.
Justice League: Part Two

Justice League: Part Two, or any Justice League sequel will most likely not happen anytime soon.
Nightwing
Remember when a Nightwing movie was announced with the director of Lego Batman Movie director Chris Mckay. The last thing heard about it was Mckay telling a fan the movie is not dead on Twitter in October 2018, but nothing since then. Sources tell us that the film has been scrapped.
Deathstroke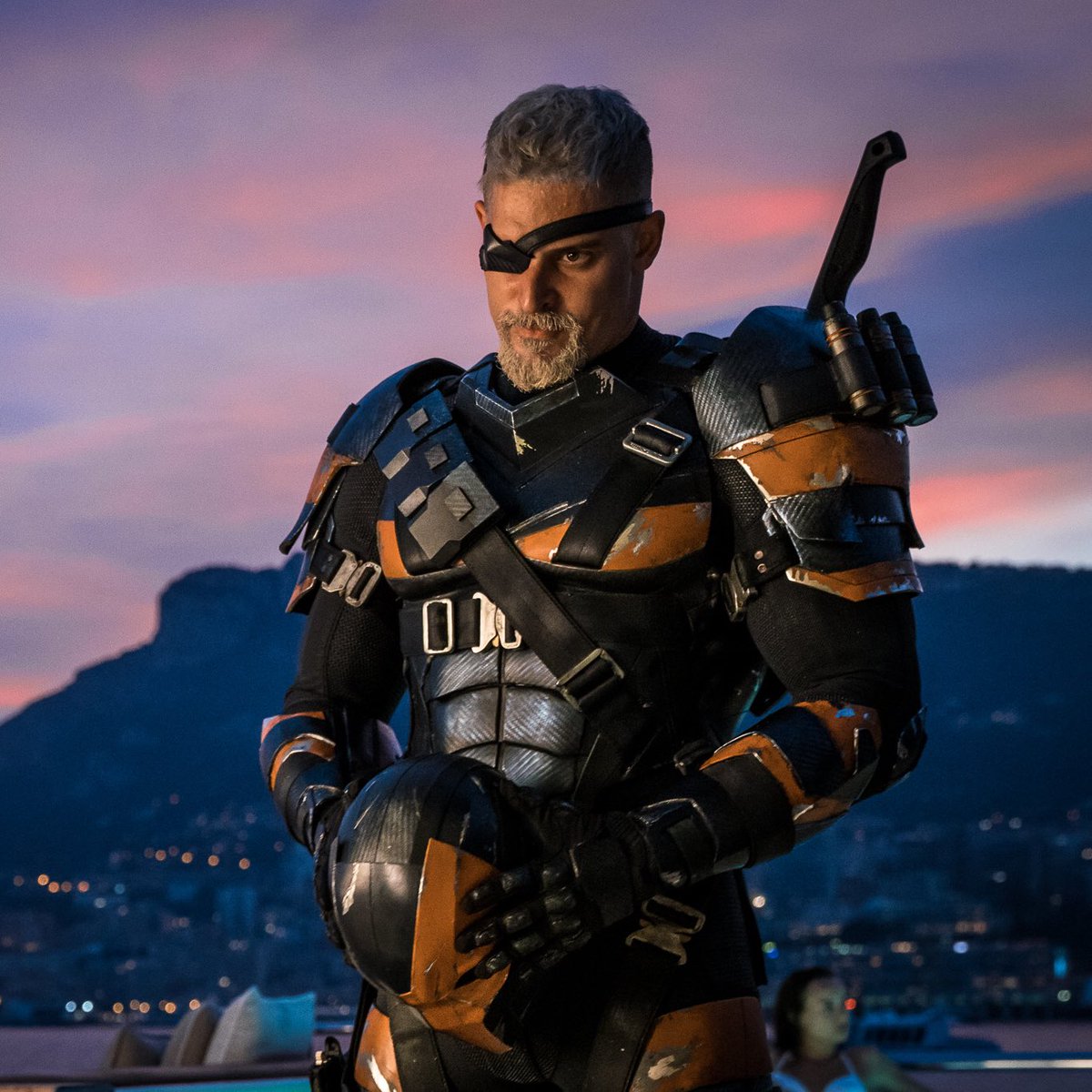 Gareth Evans, the director of The Raid films, was in early discussions to helm a Deathstroke film starring Joe Manganiello in October 2017. A year later Evans admitted that not much has happened since, and Manganiello says it's still in the works. Currently we've been told that the film is on an indefinite hold.
Green Lantern Corps

Not much is known about the Green Lantern Corps, but Geoff Johns says he's taking his time to get the script right. However, we have heard from sources that the film is dead as well.
Joker v Harley Quinn

Joker v Harley Quinn is a film that reunites Jared Leto and Margot Robbie's Joker and Harley Quinn. Glen Ficarra and John Requa (This is Us) are writing and directing, and apparently, a script had been submitted. However, sources tell us that the script and film have been shelved with focus shifted to Harley Quinn and the Birds of Prey.
Booster Gold

A Booster Gold was announced to be in development in 2016 with Zack Stentz writing the script, and Greg Berlanti of the CW attached to direct. Stentz said he turned a script in but is not sure what's going to happen. As far as we know, the film is in some form of development limbo.
Gotham City Sirens
In 2016 David Ayer was attached to direct Gotham City Sirens, a movie that would revolve around Harley Quinn, Catwoman, and Poison Ivy. Around December 2017, Ayer said it was still in development. Ayer met with Paul Dini in 2018 making it seem like something was still happening, but not much since. Just like the aforementioned Booster Gold, this film is in development limbo.
Batgirl
Joss Whedon was once attached to direct a Batgirl film in 2017. Whedon then left the project saying he couldn't get it right, but now Christina Hodson (writer of Bumblebee) is apparently working on a script. Hodson also worked on the upcoming Birds of Prey and recently updated that her Batgirl script is still on the way. We have been told, however, that the film is currently dead.
Justice League Dark
Remember when Justice League Dark was happening with Edge of Tomorrow director Doug Liman? Guess what? He reportedly isn't directing it anymore, due to other commitments. That film has been dead ever since.
Black Adam
"Kneel at his feet or get crushed by his boot." My honor to become.. #BlackAdam #TheAntiHero #DCComics pic.twitter.com/Qk55eNf3R7

— Dwayne Johnson (@TheRock) September 3, 2014
It was announced in 2014 that Dwayne Johnson was going to play Black Adam. Then it was announced that Shazam! and Black Adam would be separate films. Shazam! has just released and apparently, Johnson said that production on Black Adam will start soon. And now Jaume Collet-Sera is in talks to direct.
The Trench
The Trench was announced to be a spin-off of Aquaman back in February. We'll see how that ends up.
---
Warner Bros. should stick to announcing things that are farther in active development. There's been a trend of announcing movies with possible directors, but then nothing happens for a while, and all of a sudden the project gets delayed indefinitely. I can't blame WB for wanting to announce these potentially exciting projects, but in the last couple of years, so many of these mentioned projects were announced a bit too early. WB bit the bullet when they announced that film slate back in 2014, and now four of those movies are either dead or to be determined. It seems like WB has gotten better with this, with concrete release dates only going as far as 2022. The next films that are coming are very exciting.
Exciting Future
Joker (October 4, 2019)
While not exactly a part of the DCEU, it's still an exciting film that is labeled as an Elseworlds film. Todd Phillips, director of The Hangover, will be helming this film starring Joaquin Phoenix as the Joker. It seems to revolve around the fall of a mentally unstable man who eventually becomes a supervillain. It's an exciting experimental film on WB/DC's part, and if it's successful, then hopefully they'll be more films like this.
Birds of Prey (February 7, 2020)
An up-and-coming director in Cathy Yan, directing a film starring a diverse female-led film with Margot Robbie returning as Harley Quinn sounds exciting. Black Canary, Renee Montoya, Cassandra Cain, Huntress, Black Mask, and Victor Zsasz are all appearing in this film, and it should be on the radar of any comic book movie fan.
Wonder Woman 1984 (June 5, 2020)
By now you've heard: WB isn't going to Hall H this year. We're so sad to miss you there! And waiting until Dec. to start our official #WW84 campaign in full–  But the truth is… we can just… barely… wait… pic.twitter.com/QllFzhYRA6

— Patty Jenkins (@PattyJenks) June 5, 2019
A sequel to Wonder Woman, what more needs to be said? DC's next billion-dollar hit.
The Batman (June 25, 2021)
Matt Reeves is a very talented director and Robert Pattinson will most definitely be an interesting young Batman. The possibilities are endless with this film and it's cool that the film will explore his detective side.
The Suicide Squad (August 6, 2021)
James Gunn should bring a much-needed breath of fresh air to the Skwad, and with a lot of the cast returning, along with a possible R rating, it already sounds more interesting than the first one.
Aquaman 2 (December 16, 2022)
Aquaman 2 was always inevitable, but this release date isn't. Apparently, a Star Wars film comes out that day, so maybe WB will move that date.
---
I will always look forward to a new DC film. Warner Bros. is a studio that isn't afraid to be experimental. I will always love Marvel Studios' films, but those films will always feel like a Marvel Studios film, which isn't a bad thing because they are amazing at what they do. But every new DC film feels like a new experience for better and for worse, and it looks like this franchise will continue to do that. WB promises to continue to be a director-driven studio and it looks like these future films will reflect that.
I do hope WB takes another crack at a Justice League film because there are so many possibilities. I also understand that they need to build themselves up again to get to that point. In the past, they wanted to immediately jump right into the connected universe which would have required a lot of time and precision of a Kevin Feige, which they clearly don't have, but that's okay. It's nice that they are focusing on the films in front of them rather than announcing things left and right that lead to nothing. It has truly been a wild ride since Man of Steel, that's been full of excitement and disappointment. The DC franchise could be the crown jewel of Warner Bros., and hopefully, they treat it with enough care to keep fans excited.